This product has been discontinued, take a look at this instead...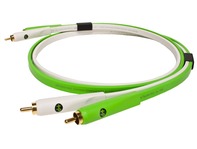 Oyaide NEO d+ RCA Class B White/Green 1.0M
In Stock
Next working day UK delivery
Oyaide NEO d+ RCA Class A Orange/Black 1.0M
Send to a friend
Product Description
Oyaide NEO d+ RCA Class A Orange/Black is from Oyaides' range of top-end audio and signal cables for professional DJs and musicians.
Oyaide d+ series cables are used by a number of top DJs and producers who demand the best possible sound quality and signal reliability from their cables. Professionals who use DJ software such as RANE Serato and Native Instruments Traktor Pro know the importance of a high-quality audio cable to ensure the best possible digital audio reproduction..
Oyaide d+ cables only use materials that meet the exacting standards of Oyaide. Only top-grade materials are used for its structure, conductor, insulator, shielding, out coating, and contacts.
"d+ RCA series" improves the sound quality of DJ equipment and provides high performance for your DJ setup or live sound production.
Oyaide NEO d+ RCA Class A Features:
Structure: Flat (Inverted concentric structure)
Conductor: PCOCC-A?0.18mm×33?
Sheath: Thermoplastic Elastomers
Insulator: Polyolefin
Terminals: 24K gold plated phosphor bronze
Body: PBT + Glass Fiber
Outer cover: Aluminum
Length: 1.0m
There are currently no reviews for this product.
Be the first the write a review.
You may also like...