This product has been discontinued, take a look at this instead...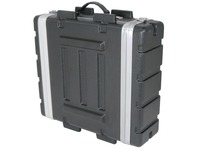 Citronic 3U ABS 19 Inch Rack Case 127.150UK
Sold Out
Next working day UK delivery
Citronic 4U ABS 19 Inch Rack Case 127.103UK
Send to a friend
Product Description
4U ABS 19" EQUIPMENT RACK CASE
4U ABS plastic transport case for 19" equipment. Super Tuff can be stacked on and will hold a lot of weight. Protect your expensive equipment from knocks and bangs with this lightweight ABS case. Suitable for amps, eq's, crossovers, hard disc drives, routers, or any other 19" wide rack mountable equipment.
Protection for your equipment during transport and storage
Made from durable ABS
Carrying bars on both sides
Can be opened from both the front and rear
Stackable
Unit Depth: 4U
Dimensions: 570 X 260 X 560 mm
Dimensions Internal: 455 x 182 x 415 mm
5
/5
Ordered Monday, recieved it 1pm next day.Well packed good quality goods. Thanks guys for a good swift service
You may also like...