This product has been discontinued, take a look at this instead...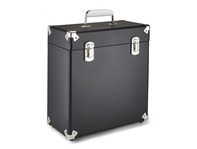 GPO Vinyl Case Black
In Stock
Next working day UK delivery
GPO Vinyl Case Blue
Send to a friend
Product Description
Looking for somewhere to store your Vinyl? Look no further than the 12 Inch GPO Vinyl Case.
The GPO Vinyl Case (Blue) is a great solution for storing your 12" vinyl records. This record box will hold up to 30-35 albums. The case features a removable lid and comes with retro metal corner protectors.
Features:
Removable Lid
Comfortably holds 30-35 albums
Available in Black, Blue, Brown, Cream and Tan, Green and Red.
Specifications:
Dimensions: L38 x W34 x D16 cm.
There are currently no reviews for this product.
Be the first the write a review.
You may also like...