This product has been discontinued, take a look at this instead...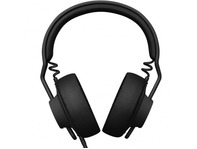 AIAIAI TMA-2 Tonmeister Preset
In Stock
Next working day UK delivery
AIAIAI TMA-2 Wireless 2 Over-Ear Preset Headphones
Send to a friend
Product Description
The AIAIAI TMA-2 Wireless 2 Over-Ear Preset headphones are a configuration by AIAIAI that contain the powerful S04 headphone/speaker unit which deliver a powerful and clear sound.

This preset includes:
S04 Speaker Units
H05 Headband
E05 Eaprads
C05 Cable

This preset has been configured with the powerful, high-sensitivity neodymium S04 speaker unit, that delivers a vibrant and detailed sound representation. The combination of the H05 smart headband and the E05 over-ear microfiber earpads, results in a wide soundstage and excellent comfort. Includes USB-C charging.

S04 Speaker Units
Engineered with a powerful neodymium magnet, Japanese voice coil and an ultra-lightweight diaphragm, resulting in high sensitivity and detailed sound.

H05 Headband
Bluetooth Headband with integrated microphone enabling wireless TMA-2 Modular configurations. Including USB-C charging cable.

E05 Earpads
Vibrant sound representation. Wide soundstage. Excellent comfort.

C05 Cable
Short 1.2 meter straight Thermo plastic cable, soft touch surface and perfect for small workstation.
Features:
Cable Lock: You can choose to lock the cable to the speaker unit, to make sure it doesn't get pulled out while playing.
Adjustable Cups: You can easily change the position of the speaker units to make the headphones fit your preference.
Battery: The Lithium-ion battery ensures a minimum of 16 hours of music play time.
Bluetooth©: Bluetooth 4.2 is used for optimal data transmission and security.
Angled Stereo Plug: This makes it harder to accidentally pull the plug from the mixer, and less intrusive, when you are beat mixing.

Specifications:
Driver Diameter: 40mm
SPL: 120 dB
Resonance Frequency: 85 Hz
Impedance: 32 Ohm
Rated Power: 20 mW
Max Power: 30 mW
Diaphragm: PET
Magnet: Premium Neodymium
Codecs: AptX HD, aptX, AAC, SBC
Profiles: A2DP, ARVCP, HFP,HSP
Playback Time: 16 hours
Weight: 279g
There are currently no reviews for this product.
Be the first the write a review.
You may also like...