This product has been discontinued, take a look at this instead...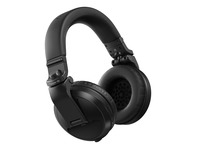 Pioneer HDJ-X5BT-K Headphones
In Stock
Next working day UK delivery
Pioneer HDJ-700
Send to a friend
Product Description
The Pioneer HDJ-700 DJ Headphones are ideal for DJ's whether they're DJ'ing at home or in the club or simply listening to music on the go. Whatever the use the HDJ-700 adapts to whatever application it is needed for.

Taking inspiration from our top-flight range, these headphones come in a sleek, lightweight aluminium design, outputting crisp and clear sound that's engineered to strongly reproduce low and mid-level frequencies.

Accurate Monitoring

Optimised for dance music, the HDJ-700s have narrow ear pads and 40 mm driver units with rare earth magnets providing a powerful bass and great sound insulation. A 19 µm diaphragm and copper-clad aluminium wire (CCAW) voice coil accurately reproduce kicks and snares.

Solid Build

A rigid, stainless steel headband endures the rigors of frequent use, while two interchangeable side-mount cords - one 1.2-metre coiled cord (3 m extended length) and one 1-metre straight cord - prolong the headphones' lifespan.

Comfortable Fit

The soft and textured polyurethane ear cups ensure a snug fit, giving you the perfect comfort even during long DJ sets.

60-Degree Rotating Arm

The HDJ-700s' right earpiece can be rotated by up to 60 degrees for easy one-ear monitoring, while the handy grip allows you to quickly put the cup back in position.

Here we have the Pioneer HDJ-700 Headphones in brand new condition and in B-Stock. The B-Stock versions would have been on display at a training evening or trade exhibition only and will come boxed 'as new' with all accessories and a 1-year warranty.
Features:
Type: Fully-enclosed, dynamic headphones
Driver Units: 40 mm dome type
Plug: 3.5 mm stereo mini-jack (gold-plated, 2-way, screw-type)
Cord: 1.2 m side mount coil cord (3 m extended length)
1 m straight cord
Included Accessories: 6.3 mm 3P plug adapter (gold-plated, screw-in)
Specifications
Weight (without cord): 220 g
Maximum Input Power: 2000 mW
Output Sound Level: 105

dBmW

Frequency Range: 5 - 28,000 Hz
Impedance: 45
5
/5
The first set I was sent were damaged which was really disappointing so I had to return them , thankfully the returns process is painless and really good. Overall the experience wasn't great but certainly could've been worse. I would and will use the company again however
Great delivery service, arrived next day before 9am. The headphones themselves are brilliant, comfortable and the noise cancellation is good. Quite a flat response which means I can use them to DJ and to mix down tracks I produce so all in all a great buy. The only downside is that they don't come with a carry case but that's really the only draw back.
You may also like...