This product has been discontinued, take a look at this instead...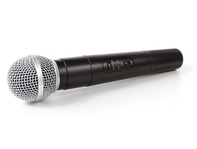 Q-Audio QWM 11 & 6 VHF Replacement Mic
In Stock
Next working day UK delivery
Q-Audio QWM 6 VHF Replacement Mic
Send to a friend
Product Description
A replacement handheld microphone for the Q-Audio QWM 6 VHF Wireless Microphone System.
Please note - this microphone requires a 9V battery (not included).

Available in the following frequencies:
174.1/174.5 MHz
173.8/175.0 MHz
Features:
Power on/off switch
Power on indicator light
Signal status LED indicator light
Low battery indicator light - when lit you have approximately one hour left of useful operation. Ideally change the battery when lit.
Mute/on switch - mutes the output of the mic when switched to 'mute'
There are currently no reviews for this product.
Be the first the write a review.
You may also like...