This product has been discontinued, take a look at this instead...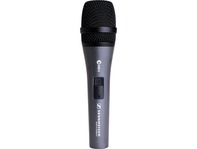 Sennheiser e845-S Vocal Microphone
Sold Out
Next working day UK delivery
Sennheiser e845 Dynamic Microphone
Send to a friend
Product Description
Introducing the Sennheiser E845 high-performance dynamic microphone. Sennheiser microphones are world-renowned for their superior vocal reproduction and performance in live applications. This series of affordable microphones maintain the same key principles that made Sennheiser an industry standard name and incorportate them into a mic that is accessible to most live performers. Suitable for mobile DJs, solo vocalists, bands and also for speech applications, the E845 features an extended top-end frequency response making it ideal for vocal applications.
Maximum focus, enhanced presence: the e845 delivers differences you can hear. Its expanded high frequency range creates space for demanding dynamics with a high signal quality. Vocals become more alive and sound wider and more open - even at different speaking proximities. Designed as a super-cardioid, the e 845 easily eliminates ambient noise. A reliable, easy-to-use companion for presentations, conferences, spoken word performance, choirs as well as rehearsal rooms and on stage.
Sennheiser E845 Dynamic Mic Features:
Dynamic super-cardioid microphone for speech and vocals
Extended high frequency range
Consistent sound quality (varying distances, moving off axis)
Handles high sound pressure levels
Optional silent on/off switch
Isolates handling noise, hum compensating coil
Excellent feedback rejection
Rugged metal housing
E845 Technical Specification:
Dimensions: Ø 46 x 185 mm
Connector: XLR-3
Frequency response (microphone) 40.....16000 Hz
Transducer principle (Microphone) dynamic
Weight: Without cable: 330 g
Pick-up pattern: super-cardioid
Sensitivity in free field, no load (1kHz) 1,8 mV/Pa
Nominal impedance: 350 Ohm
Min. terminating impedance: 1000 Ohm
Weight w/o cable 330 g
What's in the box?
1 e845
1 microphone clip
1 pouch
5
/5
You may also like...