This product has been discontinued, take a look at this instead...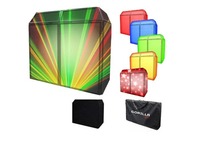 Gorilla DBS PRO DJ Booth System
In Stock
Next working day UK delivery
Gorilla DBS PRO Aluminium Folding DJ Booth System
Send to a friend
Product Description
This Gorilla DBS PRO DJ Booth (aluminium lightweight version) system that comes complete with not only the white lycra cloth scrim, but also a free black one too!! This complete pro DJ Booth is the one to have if you are looking to give your mobile disco the edge on your competitors with it's unique style and stunning looks and includes a lifetime warranty*!
This Gorilla DJ Booth system comes with a fitted white lycra cover which can be lit up from the back with a variety of different effects to create a one-of-a-kind setup and a unique focal point for your setup. Other features of this innovative stand system include integral support for the equipment shelf which comes in two sections for portability. A free carry bag is also included for easy transportation of the Gorilla DJ Booth System to-and-from gigs.
Any DJ will tell you that every gig is different and it is important to adapt to your environment. Luckily, the Gorilla DJ booth system is as versatile as you are and can be adapted to suit any event. The included white covering can be back-lit with LED cans or bars for subtle, solid colours, with single or multiple effects for a dynamic, eye-catching display or why not experiment with lasers, projection or other effects for a totally unique, high-impact appearance. In addition, an optional full overhead lighting bar kit is also available.


Here we have the Gorilla DBS PRO Aluminium Folding DJ Booth System in brand new condition and in B-Stock. The B-Stock versions would have been on display at a training evening or trade exhibition only and will have a few knocks and marks on it but will come with the original box and a 1-year warranty.
Gorilla DBS DJ Booth System Features and specification:
System includes: 4 sided folding DJ booth, shelf support cross bars, 2 piece shelf, carry bag, black and white lycra cover.
Black finish
Additional Lighting Bar Kit and LED cloth available
Dimensions (L x D x H):
110 x 700 x 1305mm (folded)
1470 x 730 x 1300mm (set up)
1420 x 705 x 930mm (internal)
Weight: 11.5kg
Gorilla Lifetime Warranty included (*excludes Lycra cloths which are user replaceable)
5
/5
i was contemplating getting this for some time and all i can is i love it the item arrived nice and early and was all intact i used it for a first time and all my guests were impressed i used the white scrim with a kinta behind it packing down and setting up took less than 4 minutes it fits nicely in a 4x 4 jeep all i can say is well done why buy new great service and saved me load of money
You may also like...