This product has been discontinued, take a look at this instead...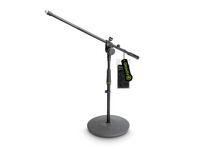 Gravity GMS2221B Short Microphone Stand with 2-Point Adjustment Boom
In Stock
Next working day UK delivery
Gravity MS 2222 B Microphone Stand
Send to a friend
Product Description
The Gravity MS 2222 B is a high quality short microphone stand with 2-point adjustment boom and solid round base. It features thick walled tubing made of steel, a black powder coated finish and a maximum height of 73cm. The heavy duty round base is made of cast iron with a rubber bottom that provides acoustic isolation and protects surfaces.
The position and angle of the boom is precisely adjusted with 2 tensioning knobs on the bracket. A quick fastener allows for variable extension to a maximum length of 88 cm, facilitating flexible mic placement. For smooth, durable height adjustment, the MS 4222 B's handle and knobs are made of high-grade ABS with a soft touch, non-slip thermoplastic coating for comfortable operation. The custom-designed retainer requires no tools for quick and secure microphone clip attachment.
An additional set of black coding rings is included with the MS 2222 B; more ring packs are available in a wide array of colours for instant personalization.
VARIWEIGHT® compatible - patented stability system for secure holding and simple transportation by means of an insertable weight disc.
Features:
Solid and durable construction
Heavy duty base
2-point boom adjustment
Ergonomic handling
Interchangeable colour rings
Specifications:
Tubing material: steel
Tubing colour: black
Tubing surface: powder coated
Min. height: 480 mm
Max. height: 730 mm
Transport length: 550 mm
Height adjustment: yes
Base type: Round base
Base material: Cast iron
Base diameter: 270 mm
Base weight: 3.6
Boom model: 2-point adjustment
Boom length: 880 mm
Interchangeable rings: 1 x 15 mm , 1 x 20 mm , 1 x 25 mm
Black ring pack included: yes
Weight: 4 kg
There are currently no reviews for this product.
Be the first the write a review.
You may also like...