This product has been discontinued, take a look at this instead...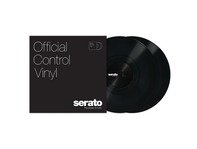 12" Serato Standard Colors (Pair) - Black
In Stock
Next working day UK delivery
12" Control Vinyl Serato Performance Series (Pair) - Black
Send to a friend
Product Description
This new line of performance vinyl features a re-mastered Serato NoiseMapTM Control Tone that is 6db louder than existing pressings, allowing for precise tracking, better vinyl wear and the most authentic feeling digital vinyl experience on the market.
There are currently no reviews for this product.
Be the first the write a review.
You may also like...