This product has been discontinued, take a look at this instead...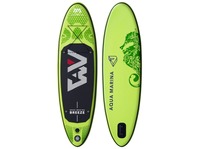 2020 Aqua Marina Breeze iSUP 2.75M/12CM Paddle Board
Sold Out
Next working day UK delivery
2019 Aqua Marina Betta VT-K2 Pro Single Person Kayak (Excl Paddle)
Send to a friend
Product Description
Aqua Marina Betta VT K2 one person inflatable kayak is the semi-professional quality kayak, suitable for all water riders. It is made from reinforced multi-layer PVC material, which is very strong and durable. During production, emphasis was placed on stability, manoeuvrability, safety and performance. Package includes the hand pump, carry bag and fixing kit (paddle not included).
This kayak can be used for recreational riding on calm water and in the wilder waters, rivers or lakes. Nine shut-off valves ensure drainage of excess water and are therefore suitable for wild water up to 3rd class.The advantage of an inflatable kayak is the easy preparation. Simply unpack, inflate, attach your seat cushions and ready to use.
The kayak takes almost no space and can be easily transported in the attached bag.The inflatable kayak Aqua Marina Betta VT K2 is equipped with a comfortable adjustable seat, fin, leg support and a place for storage of various security features.You will also find a pump and a repair kit in the package.
Aqua Marina VT-K2 Pro Single Person Kayak Specification:
Made from of reinforced multi-layer PVC material
Anticorrosion V-cone design
Storage space at the rear with elastic bungee straps for cargo fastening
Rubber grip on the bow and stern
Inflatable deck
Adjustable seat with high arm backrest
Foot rest
9 shut-off drain valves
Dimention: 312 x 83 cm
Number of air chambers: 4 + 1
Maximum passengers: 1
Maximum load: 95 kg
Weight: 11,5 kg
Suitable for quiet and wilder waters
Hand pump, bag for easy transfer, fixing kit included
Paddles are not included
There are currently no reviews for this product.
Be the first the write a review.
You may also like...