This product has been discontinued, take a look at this instead...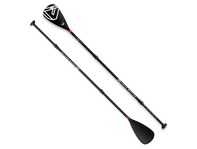 Aqua Marina Solid Adjustable Fibreglass iSup Paddle
In Stock
Next working day UK delivery
Aqua Marina Sports III Adjustable Aluminium iSup Paddle
Send to a friend
Product Description
The Aqua Marina Sports III aluminum iSUP Paddel is a versatile paddle for beginners. Suitable for both sports enthusiasts and the recreational cruiser. The paddle consists of an ABS blade with an aluminum frame.
Through the spacer it is easy to adjust in size. With the spacer the paddle length is 180cm and without it 160cm. It does not matter if this is not exactly your height.
The paddle is suitable for all lengths. An incredibly durable product that makes paddling extremely easy.
Aluminum paddle
Suitable for all SUPS
Easily adjustable
For both children and adults
There are currently no reviews for this product.
Be the first the write a review.
You may also like...