This product has been discontinued, take a look at this instead...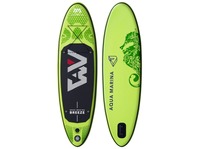 2020 Aqua Marina Breeze iSUP 2.75M/12CM Paddle Board
In Stock
Next working day UK delivery
Aqua Marina Super Trip Family iSUP 3.70M/15CM Paddle Board
Send to a friend
Product Description
This popular Aqua Marina Super Trip SUP family sized paddle board is super sized and super fun for all the family. One of the most appealing aspects about the SUP is just how easy it is to do. There are not many water sports where the whole family can join in. The Super Trip extends the family fun to the next level with its extra length and width. Designed for 2 adults +1 Kid this family stand up paddle board is a perfect rig for lakes, seaside, and rivers. A lovely mix of quick, agile and stable ideal for family use of for clubs.
This paddle board is made from high quality materials. It features 6 durable double wall drop stitch core material and non-slip EVA deck in honeycomb patters for great stability, durability and maximum traction. There are stainless steel D-rings for the safety leashes and elastic cargo bungee cords so you can attach a bag to it if you paddle longer distance. On the underside of the board you will find tri-fin system that will allow you to paddle in almost any water condition.
Excellent to take on holidays and weekends away. The paddle board folds into small compact size that will fit perfectly in the back of your car or can even be accepted as hand luggage on most of airlines. They are great fun and very simple to assemble.


This paddle board come with a full set of accessories. Included are:
Three fins (one large and two small)
Hand pump for easy and quick inflation
High quality storage backpack
Pressure gauge
Repair kit with glue
Optimum air pressure in all conditions, up to 15psi
Features:
Durable 6 (15cm) double wall drop core stitch material
Top and bottom high tensile rail bands along the outline creates stiffening system
Two extra pairs of rubber carrying handles on the side aswell as front and tail
Rounded edge board design
EVA foam deck with dot groove, heat embossed, maximum traction and durability
Stainless steel D rings for safety leash
Elastic bungee cords for cargo or to attach seat (Seat not Included)
Aqua Marina Super Trip Specification:
Board size: 370 x 87 x 15cm (12'2" x 34 x 6)
Maximum load: 210kg (Recommended 180kg)
Max. Air Pressure: 15PSI
Net weight: 12kg
Fin: 1 center + 2 side fins
There are currently no reviews for this product.
Be the first the write a review.
You may also like...