This product has been discontinued, take a look at this instead...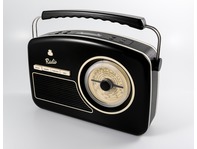 GPO Rydell Nostalgic DAB Radio Black
Sold Out
Next working day UK delivery
GPO Rydell Nostalgic Radio 4 Band Black
Send to a friend
Product Description
The GPO Rydell Nostalgic Radio 4 Band is a portable four wave radio for lovers of the 50s style. The Rydell captures the feel of the 1950s whilst still providing top quality sound and performance. Choose from an Analogue four wave with MW, LW, SW and FM using the easy to read rotary tuning dial. This radio can be mains or battery operated for portable use and is available in Black or Cream and Four Wave radio or DAB.
Features & Specifications:
1950s style retro radio
Carries MW, LW, FM and SW frequencies
Portable
Rotary dial buttons for tone & volume settings
Easy to read rotary tuning dial
Mains or battery operated (batteries not included)
2 year warranty
Available in Black and Cream
Unit Dimensions: 31 x 7 x 27cm
Unit Weight: 1.85kg
There are currently no reviews for this product.
Be the first the write a review.
You may also like...