This product has been discontinued, take a look at this instead...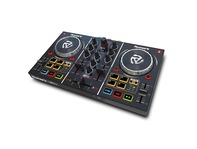 Numark Party Mix
In Stock
Next working day UK delivery
Numark DJ2GO 2
Send to a friend
Product Description
This cool Numark DJ2Go 2 (mk2) is a portable, pocket sized Serato DJ controller that can go with you anywhere. It is also fully equipped with a built-in sound card and Serato DJ intro (Serato DJ upgrade ready), which makes this the smallest all-in-one controller on the market.

This great value Numark DJ 2 Go 2 fits neatly in front of your laptop so you're ready for action in no time. It's perfect for prepping your gigs, using for small gigs and it's great for a backup if you have any unforeseen problems whilst performing.

There are endless possibilities, but most importantly, you can go anywhere with the Numark DJ2Go2.

The design and functionality of the DJ2GO2 makes it ideal for every type of DJ. Traveling DJs will enjoy having the critical elements on the go to practice, prep, and adjust their set. Mobile DJs can use it as a back - up or for a small gig with a minimal setup. All the controls are at the DJ's fingertips: simply plug in the headphones and connect the speaker s through the master output.

DJ2GO 2 comes pre - mapped with Serato DJ Intro and is upgrade - ready to Serato DJ . Play blends, mixes and transitions on the fly. Control with quick access to cues, auto/manual loop, and sampler. DJs also map the DJ2GO 2 with other popular DJ software.


Here we have the Numark DJ2Go 2 in brand new condition and in B-Stock. The B-Stock versions would have been on display at a training evening or trade exhibition only and will come boxed 'as new' with all accessories and a 1-year warranty.
Features:
Portable two-channel DJ controller for Serato DJ Intro (included)
Control the music with play, jog wheels and fader
Built-in audio card with headphone cueing to create the perfect mix
Song navigation and channel and master gain control
Perfect for performing or prepping your DJ set playlist and cue points
Standard midi mapping for use with other popular DJ software
Fits perfectly on top of your laptop
1/8 inch Headphone output
1/8 inch main output
Includes:
DJ2GO2 Controller
Serato DJ Intro download card
USB Cable
Quick start guide
1/8" to RCA cable
Minimum System Requirements:
Mac:
- Mac OS X 10.6 - macOS 10.13 High Sierra
- macOS Catalina 10.15
- 1.6GHz Intel Core Duo
- All Intel i3, i5 and i7 Processors are supported
- Screen Resolution: 1024 x 768
- RAM 1GB (minimum)
- Available USB 2.0 port
Windows
- Windows Vista with Service Pack 1
- Windows 7 with SP1
- Windows 8
- Windows 8.1
- Windows 10
- 2GHz Intel Core 2 Duo
- Available USB 2.0 port
Specifications:
Supported Sample Rate: 44.1 kHz, 16 bit
Power: mini-USB port
Dimensions: (width x depth x height) 3.4" x 12.4" x 0.63" / 8.6 x 31.4 x 1.6 cm
Weight: 0.75 lbs. / 0.34 kg
5
/5
Bought this for my Son as he loves the Numark VMS5 that I use. Out of the box I was very impressed we connected to the serato software with the enclosed instructions very easily (within minutes he was mixing). The DJ2Go2 does everything that my more expensive system does. The pads click instead of a soft feel that you get with other systems but they work well, the cross fader is nice and smooth. Although there are no phono outputs on the back instead you have a small headphone jack to one side and another jack master output on the other side. Jack to phono leads are easily available to buy to connect it to an external mixer (which we have done to also allow a mic input) which sadly is not on this controller. The layout of the controller is simple and well thought out. Overall this mini controller is simple to set up, Nice build quality, good sound output, well thought out controller. Itís far superior than the first DJ2GO controller, this upgraded version is definitely worth a look and I will definitely get one as a backup for my DJ system.
You may also like...