This product has been discontinued, take a look at this instead...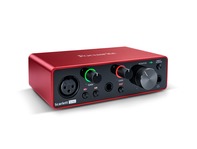 Focusrite Scarlett Solo (3rd Generation)
In Stock
Next working day UK delivery
Focusrite iTrack Solo
Send to a friend
Product Description
The Focusrite iTrack Solo is a brilliant compact and sturdy USB audio interface which is compatible with the iPad. It is easy to use, simply plug in your instrument or mic and start recording.
The iTrack Solo also has an input to directly record from electric and bass guitars! The iTrack Solo is the perfect companion for any singer-songwriter wanting to take their demos to the next level. With the very best in digital audio technology encased by a rugged aluminium unibody chassis, iTrack Solo will capture your sound with pristine quality
Make Some Noise

iTrack Solo isn't just for recording. Connect your speakers, crank up the volume and totally immerse yourself in the sound of your music, apps, video games, movies - or anything else.
Features:
Made for iPad
Also compatible with Mac OS X and Windows
High-quality award-winning Focusrite microphone input
Directly connect your microphone or instrument
Aluminium unibody case
Signal Halo LEDs for level and clip indication
Connect directly to your powered speakers
2 in / 2 out USB audio interface
96 KHz, 24-bit conversion
1 Focusrite microphone preamplifier
Silver "soft-touch" aluminium unibody chassis
Specifications:
Height 45 mm / 1.77'
Width 150 mm / 6'
Depth 100 mm / 4'
Weight 500 g / 1 lb
Compatible iPads:
iTrack Solo Lightning: iPad mini, iPad mini with Retina Display, iPad (4th generation) and iPad Air.
Standard iTrack Solo: iPad (1st gen), iPad (2nd gen) and iPad (3rd gen)
There are currently no reviews for this product.
Be the first the write a review.
You may also like...