This product has been discontinued, take a look at this instead...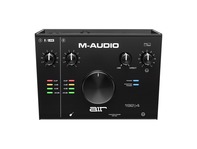 M-Audio AIR 192 | 4
Pre Order
Next working day UK delivery
M-Audio M-Track 2X2
Send to a friend
Product Description
The M-Audio M-Track 2X2 is a compact and portable USB audio interface ideal for solo artists who want high quality demos or master recordings. Features an 1/4" instrument input, 1/4" stereo and headphone outputs.

For artists who want studio-quality recordings!
With the M-Track 2X2, you can create flawless 24-bit/192kHz studio-quality recordings with an intuitive and easy-to-use audio interface. Boasting an elegant pro-grade metal chassis with a large central volume knob, the M-Track 2X2 features all-new transparent low-noise pre-amps and pristine A/D converters that deliver the highest audio performance in its class. The M-Track 2X2 enables you to record up to 2 channels at once with its dedicated XLR+¼" balanced combo input, and an all-new ¼" instrument input that has a specially designed gain and impedance stage to provide the most accurate representation of a guitar or bass plugged directly into the interface. The M-Track 2X2 connects to your Mac or PC via a standard USB or USB-C port using one of the two included cables. This premium Hi-Speed USB connection combined with the USB/Direct balance knob enables you to have zero-latency monitoring of your inputs, making the recording process easier than ever. The overall combination of professional audio performance, easy-to-use features, and the included software bundle that provides everything you need to start recording now makes the M-Track 2X2 the best and only choice for solo artists.

Crystal Clear Recording
With M-Audio's C-Series Interfaces, high quality signal capture has never been easier courtesy of all-new, pro-grade "Crystal" Preamps. Engineered from the ground up, Crystal Preamps provide musicians and producers with a transparent, low-noise solution that guarantees to get the best out of your microphone and capture your performance the way it was intended to be heard - plus, the inclusion of a +48v Phantom Power Switch assures all microphone types are catered for, including the coveted sound of high-quality condenser mics.

Ultra-Portable Studio-Grade Capture
The M-Track 2X2 fuses pristine A/D converters, tailor made to provide 24-bit resolution digital audio for exquisite dynamic range that captures every nuance and subtlety of your performance; when combined with sample rates of up to 192kHz you can be sure your recordings are completely clear and true to the source audio. Whatever the occasion, be it demos or master recordings, the M-Track 2X2 provides the quality you demand in an ultra-portable, user-friendly and robust package.

Whatever The Project, M-Track's Got It Covered
Combining 1 XLR+¼" balanced combo input and an all-new ¼" instrument input, the M-Track 2X2 allows you to record 2 channels simultaneously, all in studio grade 24-bit/192kHz resolution. The flexibility of a combo-input accommodates any source audio with a microphone or line-level output while a tailor-made gain and impedance stage on the instrument input guarantees a pristine, accurate guitar or bass DI signal.

Future-Proofed High-Speed, Zero Latency Recording
Connecting the M-Track 2X2 couldn't be simpler; install the drivers, connect it to your Mac or PC via standard USB or USB-C port and you're set to record. With the M-Track 2X2, the convenience of premium high-speed USB-C combines with a USB/Direct Balance knob, granting latency-free recording and monitoring that allows you to focus on what's important - your performance!

Instant, Out-Of-The Box Creativity
Whatever the project, the M-Track 2X2's world-class software suite provides the tools you need to take that initial idea to a finished masterpiece. Record, mix and master using Steinberg's Cubase LE; expand your sonic palate with the C-Series Virtual Instrument Suite from AIR Music Technology (including Strike, Xpand!2 and Mini-Grand); and add a professional finish using 20 iconic AU/VST effects and processors from the AIR Creative FX Collection. More than just an interface, the M-Track 2X2 is the heart of your creativity, providing all you need to realize your creative potential.

Software Included
Comes with Pro Tools First, 2GB Sample Library from Touch Loops, Eleven Lite and Xpand!2


Here we have the M-Audio M-Track 2X2 in brand new condition and in B-Stock. The B-Stock versions would have been on display at a training evening or trade exhibition only and will come boxed 'as new' with all accessories and a 1-year warranty.
Features:
24-bit/

192kHz

resolution for professional recording and monitoring
Hi-Speed

USB

connection with

USB

/Direct balance knob for zero-latency monitoring
Includes both standard

USB

and

USB-C

connection cables
Dedicated

XLR

+¼"

TRS

combo input and ¼" instrument input
Stereo ¼" outs; ¼" headphone out with independent level control
Rugged metal chassis; large central control for easy volume adjustment
Included software:
Pro Tools First


2GB

Sample Library from Touch Loops
AIR Creative FX Collection (20 world-class FX AU/

VST

plugins

as made famous by Pro Tools®)
AIR Mini Grand
AIR Strike
AIR

Xpand

!2
Specifications:
USB

2.0
Minimum System Requirements:
Windows: 7 (32 or 64 bit)


OSx

: 10.8


USB

2.0 port (or higher)
There are currently no reviews for this product.
Be the first the write a review.
You may also like...