This product has been discontinued, take a look at this instead...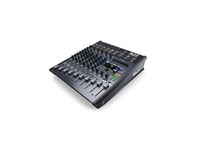 Alto Live 802
In Stock
Next working day UK delivery
Mackie ProFX8v2 Studio Mixer
Send to a friend
Product Description
The Mackie ProFX8v2 Mixer is a 8 channel professional studio effects mixing desk / mixer with USB connection. It features the new ReadyFX effects engine that gives you 16 different and superb effects such as reverb and delay. This mixer is ideal for live recording and home studios and with Mackie's famous built like a tank design it is suitably protected for life on the road.

Mackie ProFXv2 mixers provide a comprehensive live sound solution with a wide range of models, each delivering unmatched performance. With the all-new preamps and effects engine, plus tools like GEQ and USB recording/playback, ProFXv2 mixer performance will truly elevate your live sound game.

Vita Preamps
Designed specifically for live sound, Vita preamps are virtually noiseless, featuring a discrete Class-A front end design, dual feedback stabilization and bias current optimization for unmatched low-noise performance.

ReadyFX Effects Engine
The all-new ReadyFX effects engine employs floating-point DSP, designed specifically for intensive processing of high-quality audio. This results in effects that are rich and always ready to elevate performance and inspire audiences.

No-Compromise Live Mixing Toolkit
Each ProFXv2 model is a well-stocked audio toolkit. From critical tools like multi-band graphic equalization to smart features like channel inserts and footswitchable FX mute, ProFXv2 always has the tools you need.

USB Recording Playback
Built in USB interface for easily recording your own mix or for music playback during the show. We've included easy-to-use Tracktion recording software so you can get started right away.
Features:
4 Extremely low-noise Mackie Vita mic preamps designed to add life to any input
All-new ReadyFX effects engine with 16 great-sounding effects like reverbs, delays and choruses
7-Band graphic EQ for tuning mains or monitors
Built-in USB interface to record the show or provide music playback
Aux output perfect for driving a monitor mix
3 Stereo channels plus extra stereo return for external effects or stereo playback devices
60mm Faders for input channels, return and main/monitor masters
3-Band EQ (80Hz, 2.5kHz and 12kHz) on all channels
Directly connect guitar, bass and other instruments via Hi-Z input
Stereo RCA tape I/O with input level control
Headphone output with separate level control
Balanced XLR and balanced/unbalance 1/4 inch main outputs
FX mute with remote control via footswitch
Break switch mutes all channels for music playback between sets
Built in USB recording interface with simple setup via Mac or PC
Great for live recording and perfect for home studios
Stream playback music for live or studio applications
Includes user-friendly Tracktion recording software
Legendary Mackie "Built-Like-A-Tank" design
Solid steel chassis protects your investment
Tough ABS side protection
Robust internal multi-voltage power supply
Specifications:
Inputs: 4 x XLR, 8 x 1/4" Line, 2 x 1/4" Insert, 1 x Stereo RCA, 2 x 1/4" Stereo Return
Outputs: 2 x 1/4" Main Out, 2 x XLR Main Out, 1 x 1/4" FX Send, 1 x 1/4" Mon Send, 1 x 1/4" Headphones, 1 x Stereo RCA
Frequency Response: 20 Hz - 30 kHz
Distortion (THD+N): < 0.03%
Mic to Insert Send (EIN): -125 dBu
Residual Noise Output: -80 dBu
Attenuation/Crosstalk: - 80dB
Mute Switch / Break Switch (Crosstalk): -90dB
CMRR: 70 dB
Inputs Level (Max): +22 dBu
Output Level (Max): +28 dBu
Digital Effects (Input): Mono
Digital Effects (Output): Stereo
Digital Effects Presets: 16
Phantom Power: +48V
Operating Temp: 0° - 40°C
Power Consumption: 20 Watts
Height: 3.6" / 91mm
Width: 11.4" / 290mm
Depth: 14.1" / 358mm
Weight: 3.2 Kg
There are currently no reviews for this product.
Be the first the write a review.
You may also like...